The contents of my travel bag serve as my office away from home.
Back in the days when I occasionally toured with a small contemporary Christian trio, I learned that I need to take everything with me that I might need. I hauled keyboard stands, amplifiers, keyboards, cables, and power strips. The only provided service that I expected was power. Once I played for a wedding out in the woods and had to wire up a small lawnmower battery in order to provide power.
I have applied the same lessons to my office travel bag. Over time I have accumulated the various items that I use in my home office. It is nice to just grab my travel bag and go.
A bag story
A few years ago I decided that I wanted a leather travel bag. I wrote out all of the requirements: leather, cost less than $200, plenty of pockets for cables, pens, and storage, a zip top instead of a messenger-style bag, and a few other specifications. I found a manufacturer in China that sells directly to consumers. I ordered my bag and thought I was fairly happy with it.
However, my wife didn't particularly care for it, so she gave me what was, admittedly, a much nicer Coach men's bag. It was smaller than my Chinese leather bag, but I really liked it.
After a while, though, I realized that I needed something with more storage. I sold the Coach bag on eBay and bought an
Alpha Bravo Andersen Slim Commuter Brief
from TUMI. Instead of leather, I selected the ballistic nylon.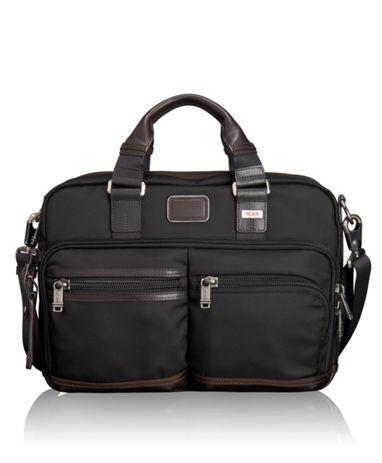 This bag has worked well for me, and has accompanied me on trips across the United States.
The contents
The version of the bag that I have has two small pockets, a large pocket for papers, a second large pocket designed for a laptop, and a back pocket for flat items. Inside the bag, there is also space for a tablet and a series of pockets for pens and business cards.
I keep the following items in my bag:
Mac computer with small mouse and power cable
iPad with power cable
Adapters for both Mac and iPad for VGA and HDMI
Notepad for brainstorming
Moleskine journal as my planner
Watercolor pencils for my planner
A random collection of pens
Earbuds
Do you have an office travel bag? What are the essentials that you must take with you?